On the afternoon of November 6, 2020, CCCA National Energy Commission and Ernst & Young successfully held an online seminar with industry experts to discuss global and Oceania energy prospects and countermeasures.
The meeting was chaired by EY Oceania China Business Group Leader, John Li. President of CCCA National Energy Commission, Executive Director, Vice Chairman and Chairman of the Executive Committee of Yancoal Australia, Zhang Ning delivered a speech. On behalf of National Energy Commission and Chinese companies in Australia, he expressed the necessity of jointly discussing the problems encountered during the development of the resource industry in the new era. Especially under this special period when COVID-19 is still raging around the globe, the entire world, including the resource industry, will undergo tremendous changes. He said when we further reflect on the relationship between human and nature, we are also experiencing more prominent opinion on reducing greenhouse gas emissions, which will have profound impact on the energy industry. At the same time, international and geopolitical relations are undergoing tremendous changes as well. And this is rapidly extending to the economic area. Some energy industries are experiencing unprecedented pressure and challenges. Facing the impact of the above three phases, how to grasp the development direction of the entire industry, how to make a strategic layout, how to deal with it strategically, how to ensure the healthy development of the industry in the future are topics of this seminar and a long-term subject.
As a keynote speaker, EY Oceania Power & Utilities Leader, Igor Sadimenko, made an in-depth analysis of global energy development trends, Australia's energy transition, prospects and response strategies.
Global energy transition
For global energy transition, Igor said "3D's"(decarbonization, decentralization and digitization) will continue to subvert the traditional way of operating, the penetration rate of renewable energy is rising, but it cannot replace heavy carbon fuels yet.
More renewable energy in the power generation process: the grid will have to adapt to the increasing amount of renewable energy. The intermittent nature of renewable energy brings challenges to grid operators, such as forecasting supply and demand, maintaining grid stability, and ensuring supply safety.
More DERs. The falling cost of solar panel and battery is accelerating the adoption of distributed power generation. More and more customers are becoming prosumers, and the grid will need to adapt to the ever-increasing two-way energy flow.
More spending on digital technology. To achieve grid digitization to manage more distributed energy and maintain grid stability, more and more utility companies are investing in digital technology to improve their asset performance and operations.
Data shows that the global Internet of Things (IOT) industry spending is expected to reach 15 billion U.S. dollars in 2024, and North American power's spending on grid analysis is expected to reach 1.3 billion U.S. dollars in 2028 (Source: International Energy Agency, Navigant and Ernst & Young).
In addition, the integration of three pillars, which are economic feasibility of technology, capital pooling, and customer demand will promote a rapid and sustainable transition of energy and accelerate the pace of energy transition. As the cost of technology decreases, renewable energy and off-meter power generation (that is, user-side or distributed power generation) will accelerate; the cost of battery energy storage systems will drop, making them directly compete with gas-fired power plants; the penetration rate of electric vehicles will increase. And the expansion of charging infrastructure will promote new energy sales and downstream energy storage capabilities.
Oceania power and utility trends
Recent events
The Australian Government issued the "First Low Emission Technology Statement 2020" as the first milestone in Australia's technology investment roadmap.
The city of Sydney is now powered using 100% renewable energy: The city of Sydney is completely dependent on green energy, providing electricity for all operations through 100% renewable energy from wind and solar farms.
The Australian Energy Market Management Committee (AEMC) approved a landmark wholesale market demand response to improve reliability and lower prices. Under new rules to be introduced in 2021, large energy consumers will be allowed to enter the wholesale market and receiving government rebate to reduce electricity usage during peak hours.
Japan's net zero target poses a new threat to Australia's coal and natural gas exports. After Japan pledged to achieve net zero carbon emissions by 2050, Australia's coal and natural gas producers are facing deeper uncertainty about the long-term demand for these commodities.
Australian energy statistics
Over time, the Australian economy has shown lower energy intensity and higher energy productivity.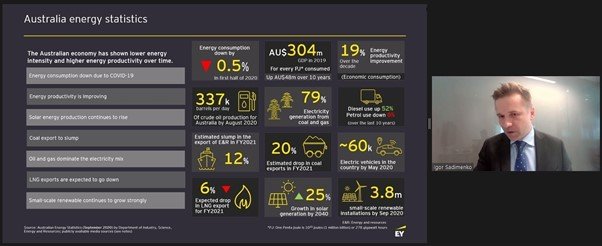 Compared with the energy demand of the main 10 countries, Australia's energy demand remains stable. Despite the widespread impact of the pandemic, it will have little impact on Australia's electricity demand in 2020, but the drop in oil and gas prices has led to a decline of wholesale electricity prices in the national market. However, as global energy demand increases, Australia can enhance its prominence as a leading energy and technology supplier.
The power industry in Oceania needs to transform to prepare for future grid trends. The future energy transition will require huge investments in new solar and wind energy production capacity, as well as the divestment of coal-fired power plants; the intermittent rise of renewable energy and the existence of coal-fired power plants increase the vulnerability of the system to grid infrastructure investment; Three turning points will create a series of value changes, produce significant winners and losers, and will permanently change the Oceania power business:
Turning point 1 (year 2021) – The birth of a new energy system. The cost of a distributed solar energy and storage system is equivalent to the retail price of grid electricity
Turning point 2 (year 2025) – The interactivity of electricity and mobility. The period when the price of electric vehicles is comparable to the cost and performance of internal combustion engine (ICE) vehicles
Turning point 3 (year 2033) – Digital Energy Market. The cost of distributed solar energy plus energy storage systems is lower than the cost of grid transmission and distribution.
Outlook and response strategies for power and public utilities
We are moving towards a new energy system, enhanced and interconnected through digital technology, and electricity and information flow in two directions. Hybrid grids appear on two levels simultaneously,
Transition from traditional power generation to renewable energy
Transition from centralized power generation to distributed energy
Customers are becoming the center of the energy sector, and power companies must now focus on consumer needs, not just what they are regulated for.
Smart metering is changing the relationship between retailers and customers, from two-way energy supply to two-way energy and information exchange
Cost-conscious customers may need a simple, cost-effective solution that can be tailored to their energy needs
New entrants are already taking advantage of opportunities to change customer behaviour and promote industry convergence
Supporting technologies such as blockchain will be used to trade energy at the community level
In the following panel discussion, senior executives from four Chinese enterprises in Australia gathered together, including President of CCCA National Energy Commission, Executive Director of Yancoal Australia, Mr.Zhang Ning, and President of CNOOC Gas & Power Australia Investment Holdings Ltd. Mr. Wang Maoshan, Chairman of State Grid Australia Office/State Grid Australia Assets Company SGSPAA, Mr. Jiang Longhua and Director of Alinta Energy/La Trobe Valley Power Group, Mr. Dong Zhaohui discussed how to deal with the market challenges in the current environment, e.g. take the advantages of enterprise resource optimization to  adjust product structure, strictly control costs and expenses, and quantify profit data to clarify responsibilities, and give full play to the core competitive advantages of enterprises to resist the adverse effects of the external environment. They also shared successful experience on investing in large-scale projects in Australia, such as choosing a suitable long-term partner, cooperating with partners, and dealing with challenges on investment return, production and operation. On the other hand, they shared the experience of Chinese enterprises on stable operations in overseas, such as internationalization + localization Strategy. In view of the opportunities and prospects of the Australian energy industry and facing the energy transition, we hope to leverage the advantages of Chinese-funded background, coordinate resource development for large-scale projects, consider balanced development between traditional and new energy, and improve corporate development strategies.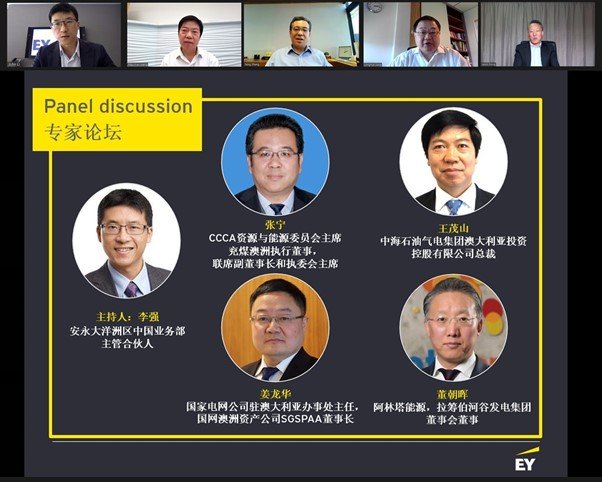 Due to time constraints, not every question asked by the audience is answered. We look forward to communicating with you offline. If you want to know more or have any questions, please feel free to contact a member of our China Business Group.
This material is prepared for the purpose of providing general information and is not intended to be relied upon accounting, taxation, legal or other professional advice. Please ask your consultant for specific advice.
Contact us