On Friday 31 July the Treasurer announced the release of the exposure draft of the Foreign Investment Reform. The reform is scheduled to commence on 1 January 2021. This reform will further clarify the regulatory requirements for foreign investment in sensitive industries, and plan to introduce a national security review system. Foreign investors will accept stricter reviews and assume stricter compliance obligations. The implementation of the reform plan will have a significant impact on the foreign investment environment in Australia, and Chinese companies investing in Australia will also face more challenges.
At 2 pm on August 27th, the FIRB National Security Review System Reform Webinar hosted by China Chamber of Commerce in Australia (CCCA) and jointly organized by the Legal Compliance Committee of CCCA and King & Wood Mallesons Australia was successfully. A total of 110 representatives from member units of CCCA attended the meeting. Mr. Malcolm Brennan, a partner of King & Wood Mallesons and a legal expert on foreign investment review and approval, and Ms. Yang Yingdan, a business partner of the company, as guest speakers, introduced the main points of the bill reform and the matters that enterprises should pay attention to. Hao Yujie, China Partner of King & Wood Mallesons, chaired the meeting.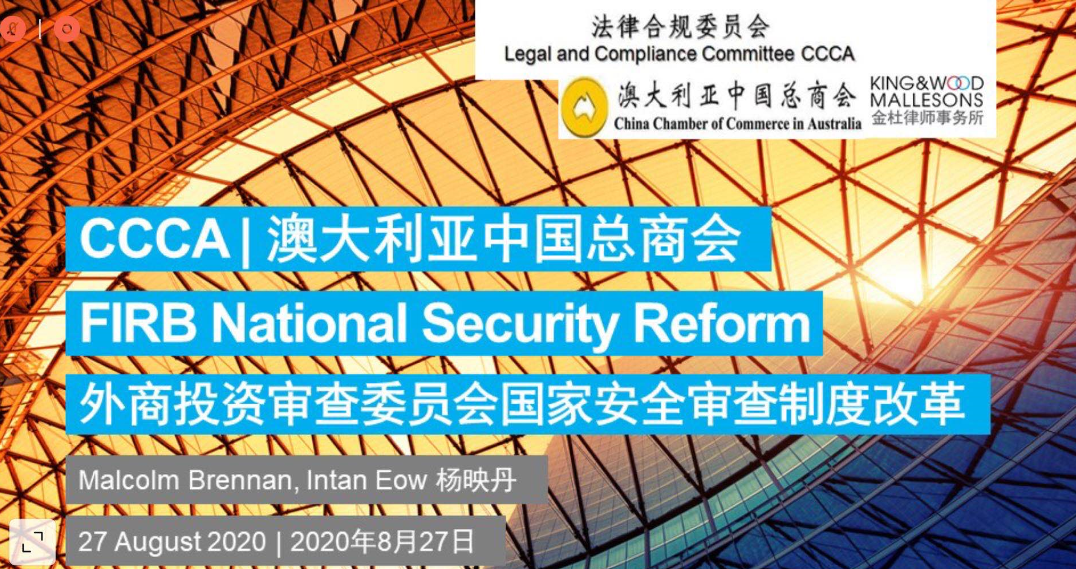 This meeting analyzed in detail the key points of the reform of the new foreign investment review system and the impact of related investment policies, compared the relevant content before and after the reform, and focused on the analysis of the relevant regulatory requirements for foreign investment sensitive industries that will be introduced in the reform and national security review system.

During the meeting, the representatives of the participating units and the two speakers interacted with the hot spots that required Chinese enterprises to focus on and prepare for the new policy reform measures.
The video link of this meeting is as follows for reference.