On August 25th, 2019, with all the enthusiastic players, hard-working referees and staff passionately organized by Sydney Branch Secretariat, CCB Cup, 11th CCCA Sydney Branch Badminton Competition concluded in Badminton Worx badminton hall, Sydney.
Counsellor Wang Hongbo and Consul General Wang Long from Economic and Commercial Section of the Chinese Consulate General in Sydney, Mr Jin Yangtong, General Manager of China Construction Bank Sydney Branch, Mr Jiang Jianxin, General Manager of AusShen Co., Ltd., Ms Xuan Xiaoling, Sales Manager of Australia China Travel Service Co., Ltd. , Mr Gan Xianke, President of Penfolds Elite Club, Mr Qin Lijun, Hon-E Haven Executive Director , Mr Jarryd Daymond, Hon-E Haven's Australian Director and Shareholder and other guests attended the closing ceremony and award ceremony.
The event consists individual game and group game. 21 either CCCA member company or CCCA sponsor sent teams paticipated the grup game. These organizations are China Construction Bank Sydney Branch, Australian Dongbei Chinese Chamber of Commerce Inc, Agricultural Bank of China Sydney Branch, Bank of China Sydney Branch, COSCO Shipping (Australia) Co., Ltd., Huawei Technologies (Australia) Co., Ltd., Industrial and Commercial Bank of China Co., Ltd. Sydney Branch, Greenland Australia, Air China Sydney Branch, Yunnan Tin Group Australia Investment Holdings Co., Ltd., Goldwind Australia Limited, Shenzhen (Australia) Overseas Chamber of Commerce, Dadi (Australia) Engineering Co., Ltd., CITIC Bank Sydney Representative Office, China Unicom (Australia) Operations Co., Ltd., China Everbright Bank Sydney Branch, EY, GHD, GILBERT TOBIN, Australia Dylan Matt Ford Group, and M-Tour International. The event is greatly supported by: Title Sponsor – China Construction Bank Sydney Branch, First Prize Sponsor – Australia China Travel Service Co., Ltd., Second Prize Sponsor – Penfolds Elite Club, Third Class Prize sponsor – Hon-E Haven, the on-site lottery sponsor – Australian Dongbei Chinese Chamber of Commerce Inc.
All players strove hard and displayed wonderful badminton skills. There are many master players who presented multiple joyful games,which shed lights for the event. Golden Wind  & Dadi United team, Huawei team and Bank of China & M-Tour United team are the top three of group game. Sydney Branch Secretariat would like to congratulate all teams that achieved outstanding results and express sincere appreciaton to all the referees and the relevant staff for their meticulous and rigorous work.
In the puporse of friendship building, communication promoting and team uniting,  this annual badminton competition has become a classic event of CCCA Sydney Branch. It has attracted a wide range of participation and the influence is gradually expanding. In the meanwhile, it also provides a platform for member staff to shine themselves and communicate with each other and to expree the passion to badminton, for Chinese enterprises to show the cohesion and team spirit.
Let's gather for badminton again and expect more wonderful game next year!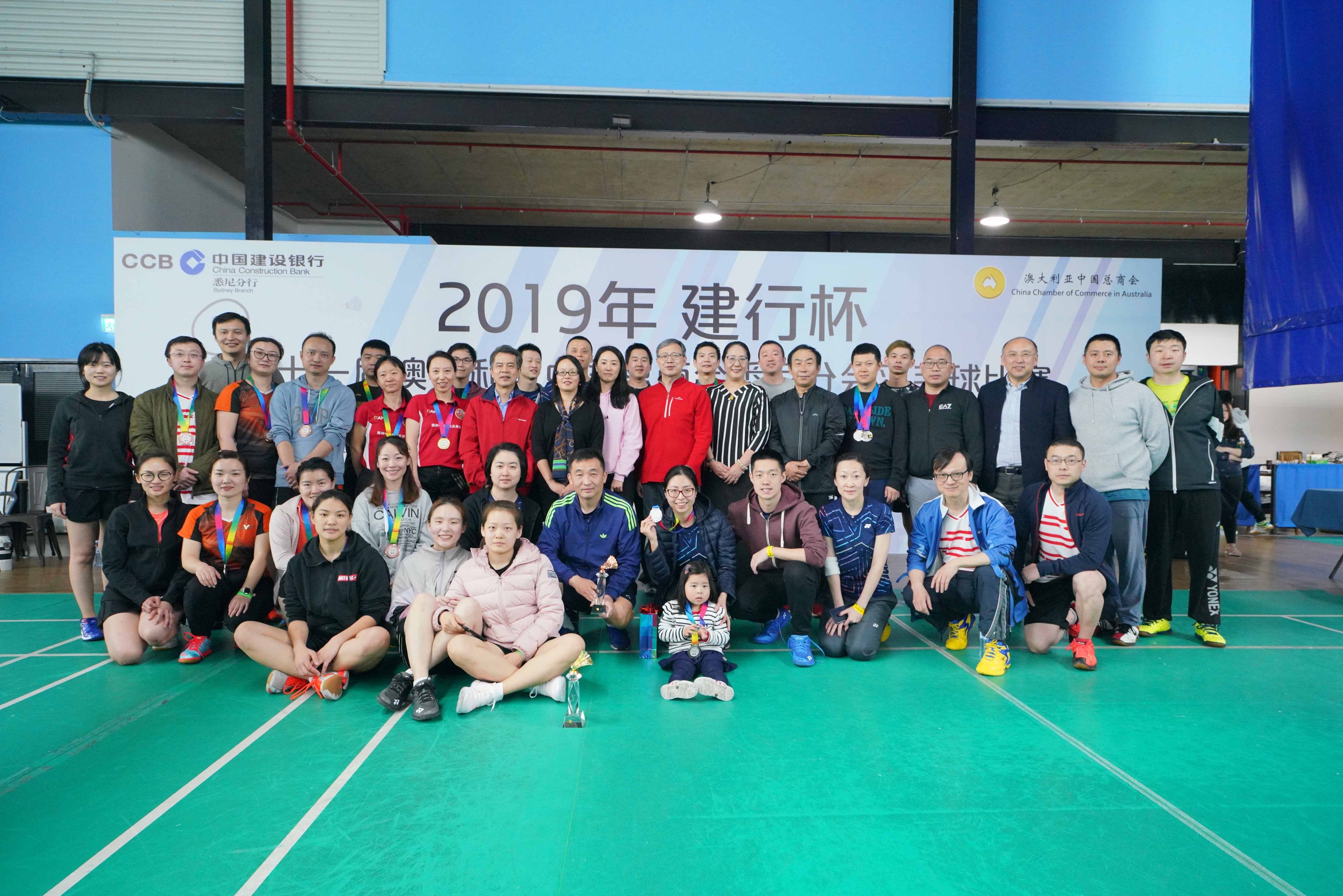 Group photo between awarding guests and players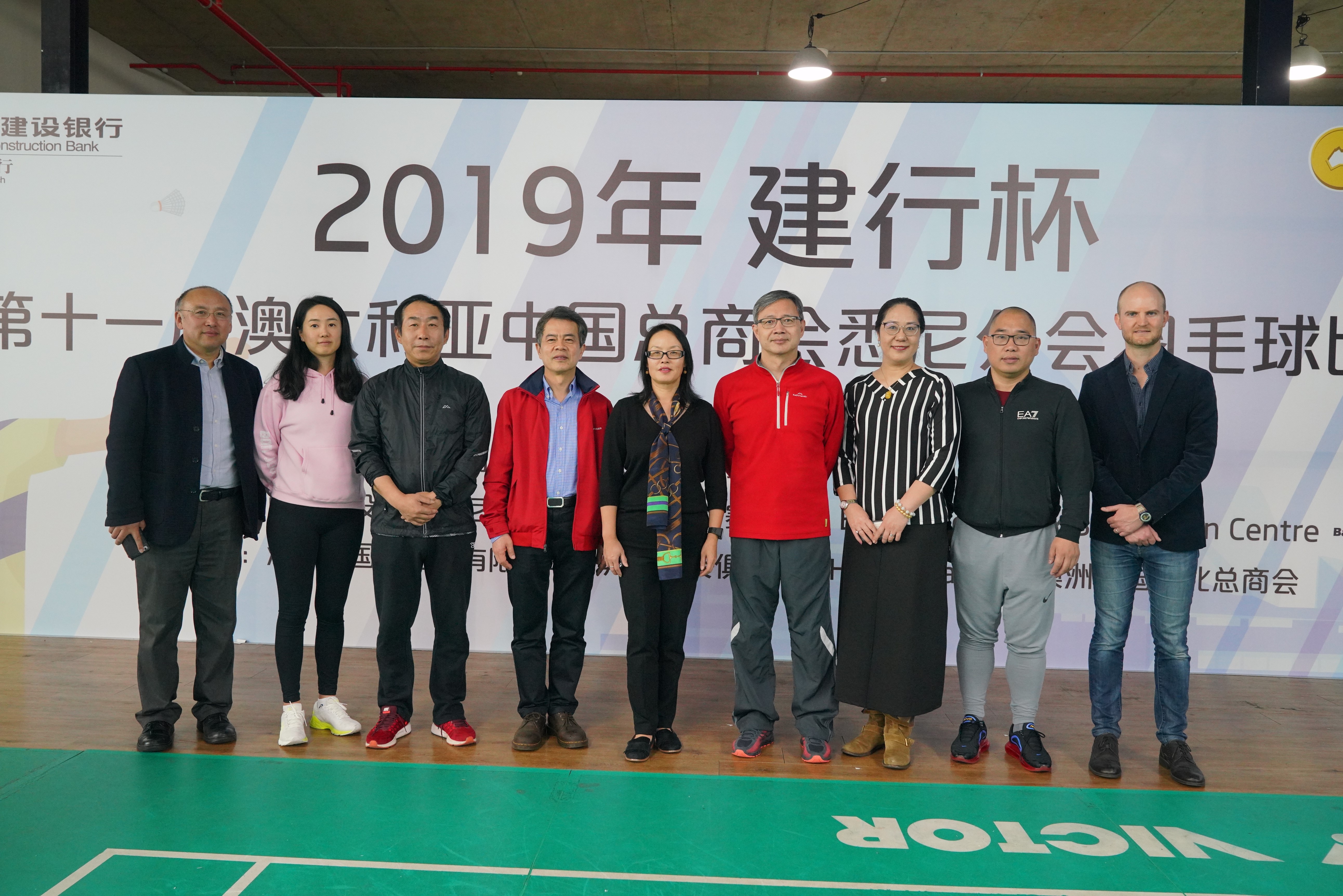 Group photo between Economic and Commercial Section of the Chinese Consulate General in Sydney and Sponsors
Group Game Champion: Golden Wind  & Dadi United team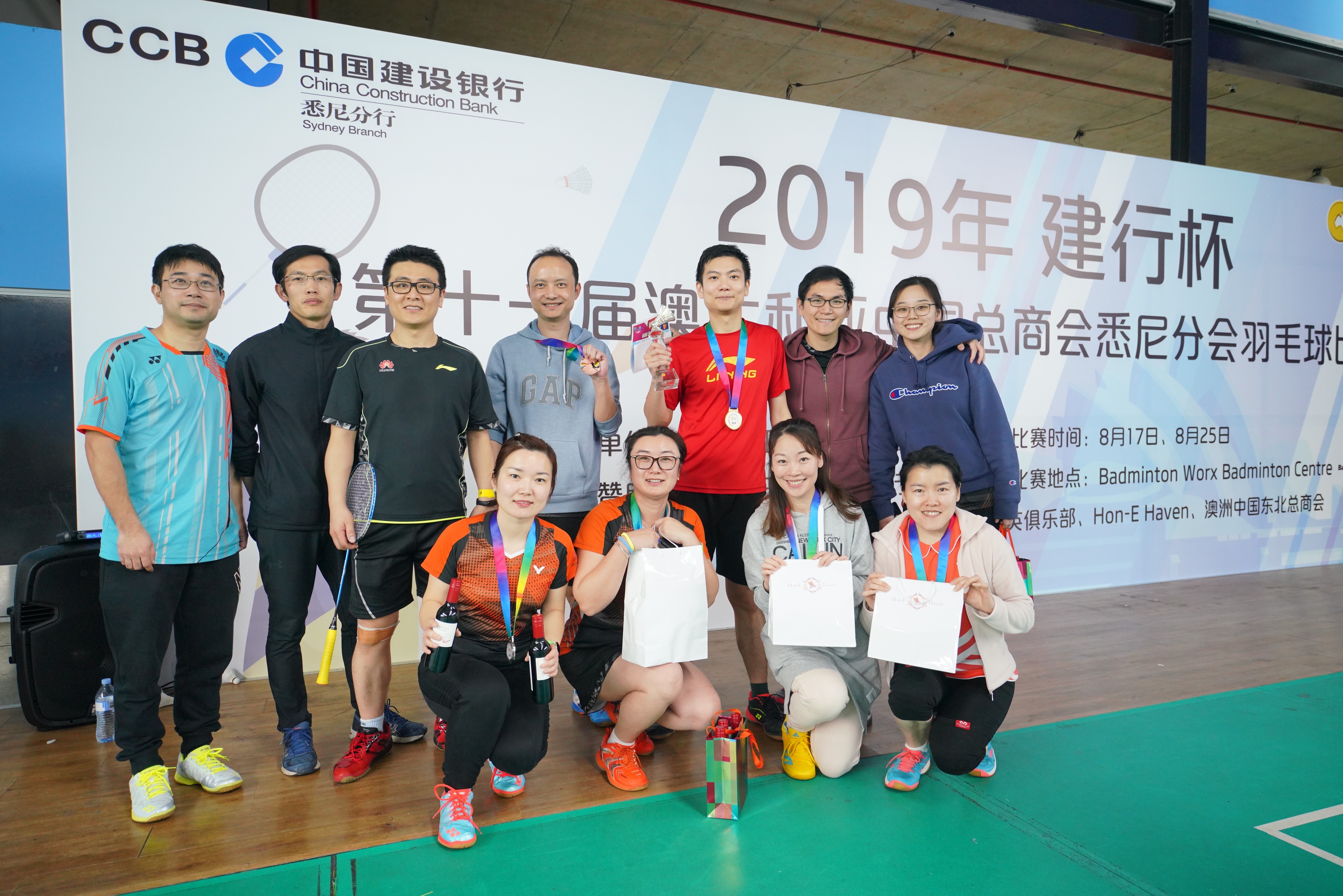 Group Game Runner-up: HuaWei team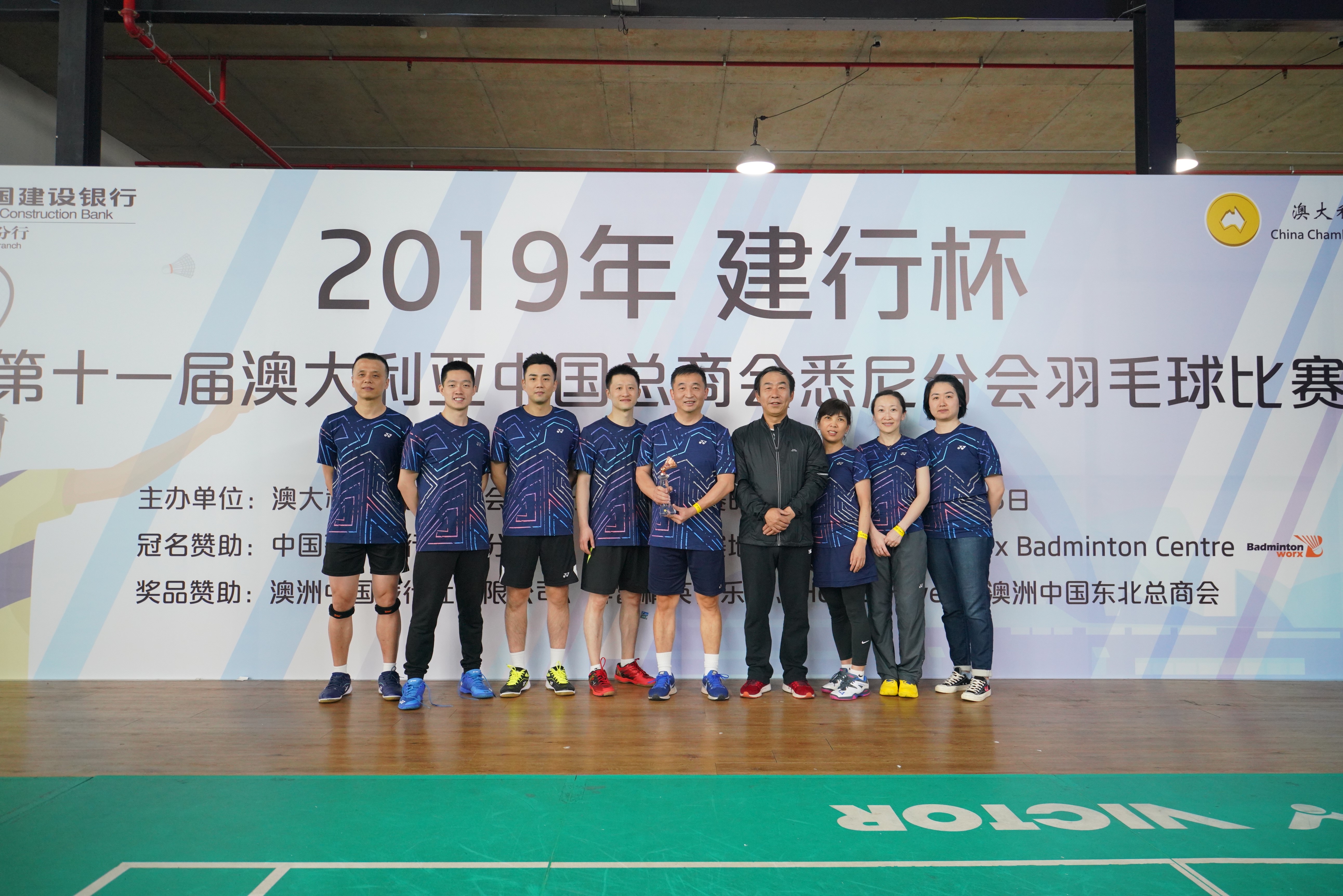 Group Game Third Place: Bank of China and M-Tour United team
Award List
Group Game
| | |
| --- | --- |
| Prize | Organization |
| Group Game Champion | Golden Wind  & Dadi  United team |
| Group Game Runner-up | HuaWei team |
| Group Game Third Place | Bank of China and M-Tour United team |
Individual Game
Champion
Runner-up
Third Place
Mens Double 40+
Stanley Zhou /

Roger Li

中远海运

Hao Zhang /

Quan Liu

美途/中国银行

Yueyang Zhang /

Yang Jun

华为

Mens Double 40-
Kevin Ooi /

Bruce Chandra
华为

张淼 /

Yinfu Wang
澳宝/美途

Jason Tan /

Junru Qu
力创国际

Womens Double
丁娜 /

邓雪
东北总商会

Cindy Chen /

Peggy Yin
华为

Christine Li / Michelle Ye
中国银行
Mixed Double 40+
Harvey Ouyang /

Kate Chan
中远海运

Hao Zhang /

Jessie Shao
中国银行

Cindy Chen /

Zhao Bing
华为

Mixed Double 40-
Roger Li /

Jessica Wu
中远海运

宗波 /

牟秋霖
大地工程

李怡然 /

唐汉威
建设银行