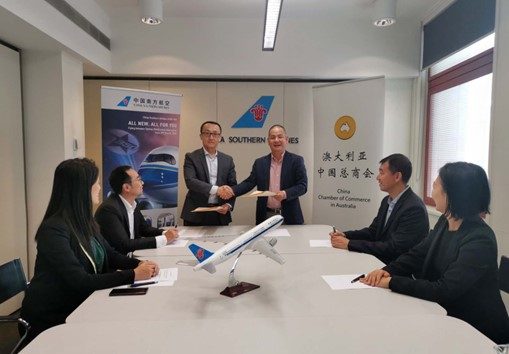 On March 23, 2023, China Southern Airlines and China Chamber of Commerce in Australia (CCCA) signed a group client agreement, marking the opening of a new chapter of cooperation between the two parties.
According to the agreement, CCCA has set up the exclusive air ticket purchase service with China Southern Airlines Australia for the member companies.
Mr Sun Zhixing, General Manager of China Southern Airlines Australia and New Zealand Regional Marketing Center, said: "We are very pleased to have reached this strategic cooperation with CCCA. We will continue to provide customers with excellent service and comfortable travel experience, also to provide more convenient, efficient and high-quality aviation services to the members of CCCA. In the meantime, this cooperation will further consolidate China Southern Airlines 's position in the China-Australia aviation market."
Mr Chen Min, secretary-general of CCCA, said: "China Southern Airlines is a professional and high-quality airline company, and we attach great importance to establishing a partnership with it. With the recovery of Sino-Australian relations, bilateral economic and trade exchanges will gradually return to normal. The travel demand of member units will be released. We look forward to continuing to deepen cooperation with the China Southern Airlines Australia-New Zealand Marketing Center in the future to create more trade and investment opportunities for enterprises of the two countries, and to develop and prosper together."
This cooperation will further enhance the brand awareness and competitiveness of China Southern Airlines in the Australian market and expand its market share.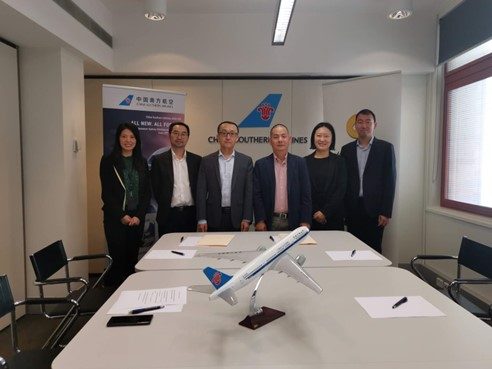 During the epidemic, China Southern Airlines maintained the stable implementation of China-Australia airline routes. Since the beginning of this year, China Southern Airlines has successively resumed daily flights to Sydney and Melbourne. Starting April 19, Sydney flights will increase to 10 flights per week. By the end of the year Sydney and Melbourne will each have at least two daily flights. In the Australian market, China Southern Airline's capacity recovery rate ranks first among all regions. At the same time, various transit services at the Guangzhou hub, including one-stop ticket, free accommodation for transit, and 144-hour transit visa-free policies have also resumed, helping China Southern Airline to serve passengers with the most convenient transit service until their destinations.
If the employees of the member companies of CCCA have travel needs to China or transit to a third country through Guangzhou, please follow the ticketing process below to consult with the China Southern Airlines Sales Department and the designated cooperative ticket agent.
Firstly, send the names of yourself and the accompanying showing on passport via the corporate email to China Southern Airlines Sales Department sydcorp@csair.com.au to confirm the membership of CCCA.
Consult with the cooperative air ticket agent for seat reservation and ticket issuance. The passenger information for reservation must be consistent with the reported to China Southern Airlines in order to benefit the exclusive ticket policy.
Designated travel agency: China Travel Service (Aust): ctsyvonne@chinatravel.com.au
At the same time, China Southern Airlines has resumed Guangzhou transit baggage transportation, free hotel accommodation for transit, and visa-free transit for third-country transit in Guangzhou, providing a convenient travel experience. For details, see www.csair.com.au.
We would like to thank the member companies of CCCA for their support, and welcome everyone to fly with China Southern Airlines!